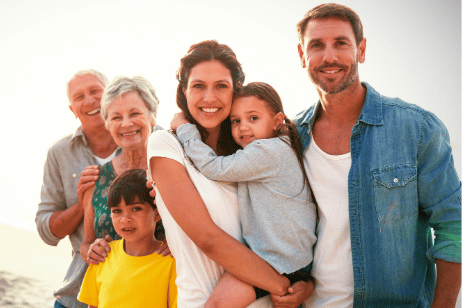 Having children is a life-long sentence. When they are babies you worry about them swallowing batteries and when they are teenagers you worry about them falling in with the wrong crowd. Once they are in their 20s and 30s, you worry about them being able to afford their own home.
First-home ownership among 18 to 39-year old's has dropped in Sydney and the figures are not much better in the Melbourne, Brisbane and Perth.
In a recent survey by the lawyers Slater and Gordon, 26% of Generation Y said they would need some help from their parents to get into their first home. That is great if Bank of Mum and Dad can afford it, but even if you are not in a position to help out your children with a bundle of cash, there is still a way you can give them a financial leg up. If you own your own home, you can help your children step on the property ladder by becoming a parental guarantor.
What is a Parental Guarantee?
It is when a parent uses the equity in their home as security against a loan taken out by their child. For example, if you have $500,000 equity in your home, you can put up part of that – say $100,000 to provide your child with additional security value, allowing them to borrow more of the purchase price of their new home.
What are the Benefits?
Saving for a deposit can be hard, especially on top of paying rent. By freeing up the equity in your home as a deposit for your child, this means they can skip having to save for a deposit and can move into their own home faster.
If you don't have a deposit of 20%, lenders require you to take out lenders' mortgage insurance (LMI), which covers them if you are unable to meet your repayments. A parental guarantee can potentially mean avoiding or reducing the cost of LMI.
So long as your child keeps up their mortgage repayments, it will not cost you anything.
Once your child has built up the equity in their home, or paid off enough of their mortgage to cover your initial security, you can dissolve the agreement, although this may incur fees.
So long as you have enough equity in your home, you can become a parental guarantor for loans for all of your children.
What are the Potential Risks?
With all loans, there are risks involved. Your home is at risk should your children default on their loans.
By agreeing to act as a parental guarantor, your ability to take on further loans for yourself or others will be diminished.
Of course, as with all financial decisions, becoming a parental guarantor is not something that you should rush into without first speaking to the experts. But by doing your homework and working with your trusted mortgage professional, tapping into the equity in your home could help secure the financial future of your entire family.
This article contains information that is general in nature. It does not take into account the objectives, financial situation or needs of any particular person. You need to consider your financial situation or needs before making any decisions based on this information.