Why should you use a Finance Broker for commercial lending?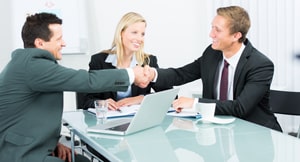 As anyone who has bought a family home will attest, it's an emotional process that involves both the head and the heart. Luckily buying commercial real estate is simpler – it's all about the cold, hard figures.
That's why whether you're looking to grow your own business or reap the rewards of rental returns and capital gains, if you are buying commercial real estate you need to seek trusted advice from a finance broker like Zippy Finance. Commercial lending isn't as simple as residential lending, so it's essential to have the backing of an experienced commercial mortgage broker, who will be able to ensure you get the best deal.
The Benefits of a Commercial Finance Broker:
• A Broker doesn't Work for the Banks
Once they get your regular business, the banks regard you as hooked. If you are a loyal customer with multiple accounts and loans, they're less likely to offer you the best deals on any new lending. By going straight to your regular bank to discuss a new commercial loan, you can be sure that you'll be overcharged.
• A Broker will Secure You the Best Deal
A finance broker can compare all the different loans from different banks and other lenders that a lot of people won't have even heard of. You will be able to see exactly what the market has to offer, and get a clear picture of the associated costs, from interest rates and entry fees to ongoing charges. By comparing the savings, you'll have the peace of mind of knowing you've got the best deal possible.
• A Broker can Negotiate
Unlike some rigid residential home loans, commercial lending is more flexible. An experienced commercial mortgage broker will have strong relationships with their lenders, know their products inside out and be able to negotiate on your behalf. There are a lot of loan-structure options to explore and every one of them has the possibility to secure you a fairer deal and save you money.
• A Broker will Grease the Wheels
The emotion of purchasing a dream family home might not be there with a business transaction, but in many ways it is a more complicated process. Your broker will help to smooth proceedings, by offering help and guidance at every step of the way and by dealing with any other involved parties – accountants, lawyers and estate and buyers' agents.
• A Broker Looks to the Future
Any investment is always about future returns, and your commercial mortgage broker will be by your side for the long haul. As you and your business needs change, your broker will ensure that your loan remains competitive.
If you would like to know more or have a question about commercial loans, send us a message at https://zippyfinancial.com.au/contactus or phone us on 1300 855 022.