Unleashing Financial Wisdom: Engage with Zippy the Wonder Dog!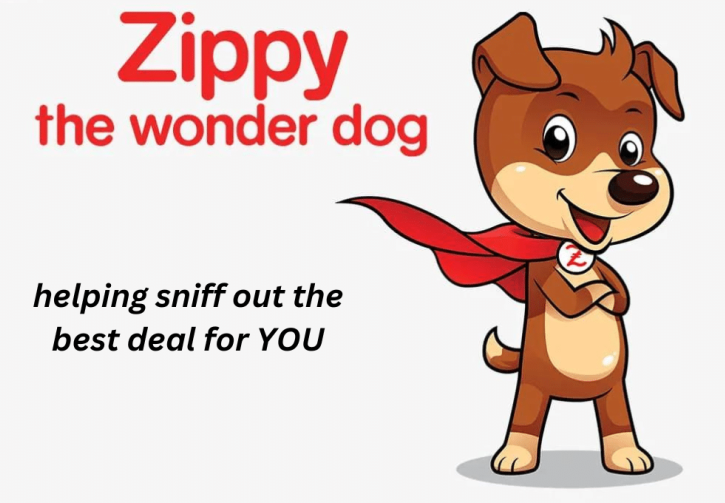 In a world brimming with financial advice and information, cutting through the noise to find true Financial Wisdom can be a daunting task. Enter Zippy the Wonder Dog, the mascot of Zippy Financial, who's on a mission to make financial learning not just informative but also incredibly fun. With Zippy's help, we're transforming the way you interact with money matters, one bark at a time.
The Role of Mascots in Financial Education
Mascots, with the assistance of a mortgage broker, play a significant role in financial education, using their unique appeal to transform complex concepts into memorable and relatable experiences. They serve as a bridge between financial experts and individuals of all ages, simplifying the journey towards financial literacy.
Zippy the Wonder Dog – A Mascot for Financial Wisdom Limited
Memorable Representation: Zippy the Wonder Dog, the mascot for Financial Wisdom Limited, embodies the essence of financial wisdom in a memorable and approachable manner, leaving a lasting impression on clients.
Cross-Generational Appeal: With a cuddly exterior and sage advice, Zippy connects with clients of all ages, making financial education relatable and accessible to both children and adults.
Guidance and Accessibility: Zippy serves as a friendly guide, simplifying complex financial concepts and making the path to financial literacy more straightforward and enjoyable for everyone.
Interactive Financial Learning with Zippy
Imagine learning about interest rates through an interactive game or exploring investment strategies with a virtual treasure hunt. Zippy leads the pack with innovative tools that simplify the complexities of finance. Whether you're a first-time saver or a seasoned investor, Zippy's interactive financial learning experiences are designed to empower you with knowledge and confidence.
Zippy's Tips and Tricks for Financial Fitness
Financial fitness is not a sprint; it's a marathon. And who better to coach you than Zippy? From bite-sized budgeting basics to investment insights, Zippy's tips and tricks are your roadmap to financial well-being. Each piece of advice is tailored by Financial Wisdom advisers who ensure that you're getting the most reliable and actionable strategies.
Zippy isn't just a mascot; he's a community builder. Zippy's Community Corner is where clients share their success stories and challenges, creating a support network that thrives on collective Financial Wisdom. It's a place where every question is welcomed and every milestone celebrated, all under the watchful and encouraging eyes of Zippy.
Keeping Up with the Paws – Zippy's Financial News
Stay ahead of the financial curve with Zippy's Financial News. This monthly digest breaks down the latest in finance, from market trends to regulatory changes, all explained in Zippy's friendly tone. It's not just about staying informed; it's about understanding how these changes affect your wallet and your future.
With Zippy the Wonder Dog by your side, financial wisdom is not just within reach; it's already in your grasp. We invite you to join our pack and discover how engaging with financial planning can lead to a healthier financial future. So, are you ready to unleash your Financial Wisdom with Zippy? Let's embark on this adventure together!
Frequently Asked Questions
What is 'Financial Wisdom' and how can it help me?
Financial Wisdom refers to the knowledge and understanding of how money works in various aspects, including saving, investing, and spending. It can help you make informed financial decisions and plan for a secure future.
How can Zippy the Wonder Dog teach me about finance?
Zippy the Wonder Dog can introduce complex financial concepts in a simplified manner through storytelling, making it easier to understand and remember financial strategies.
Is Financial Wisdom only for adults or can children learn too?
Financial Wisdom is beneficial for all ages. Introducing financial concepts to children early on can set the foundation for responsible money management in the future.
Can engaging with Zippy the Wonder Dog help me with my debt management?
Yes, Zippy the Wonder Dog offers strategies and tips that can assist individuals in managing and reducing debt.
Where can I find more resources on Financial Wisdom?
Additional resources can be found through financial education platforms, books, seminars, and online courses that focus on financial literacy.
How can I make learning about finance a fun experience for my family?
Incorporating games, challenges, and interactive tools like Zippy the Wonder Dog can make learning about finance an enjoyable activity for the whole family.
Zippy Financial is an award-winning mortgage brokerage specialising in home loans, property investment, commercial lending, and vehicle & asset finance. Whether you are looking to buy your first home, refinance or build your property investment portfolio, the team at Zippy Financial can help find and secure the right loan for you and your business.
Louisa Sanghera is an award-winning mortgage broker and Director at Zippy Financial. Louisa founded Zippy Financial with the goal of helping clients grow their wealth through smart property and business financing. Louisa utilises her expert financial knowledge, vision for exceptional customer service and passion for property to help her clients achieve their lifestyle and financial goals. Louisa is an experienced speaker, financial commentator, mortgage broker industry representative and small business advocate.
Louisa Sanghera is a Credit Representative (437236) of Mortgage Specialists Pty Ltd (Australian Credit Licence No. 387025).
Disclaimer: This article contains information that is general in nature. It does not take into account the objectives, financial situation or needs of any particular person. You need to consider your financial situation and needs before making any decisions based on this information. This article is not to be used in place of professional advice, whether business, health or financial.