8 New Year's Resolutions to Get on Top of Your Finances in 2022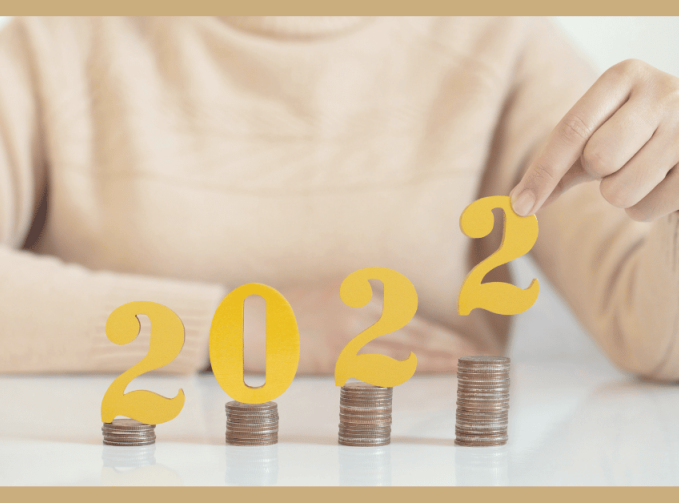 It's that time of the year again when most people embrace a fresh start. New look, new routines, new goals. But if you're someone who likes making New Year's resolutions, you know how hard it is to stick to them long-term. Did you know that by simply checking in and reviewing your finances, debts and insurances you could put yourself on the path to financial security?
If that sounds like too much hard work, don't fret! With an experienced mortgage broker on your side, you won't have to chase all of this up by yourself, as they can take care of some of the research and admin for you.
Spending just a few hours engaging in your own finances, could save thousands, even tens of thousands, each year. If you want 2022 to be a better year for your money, consider these 8 ways to get on top of your money so you can make it work hard for you.
How to Stay on Top of Your Finances
If you have credit cards, personal loans or car finance, you could save by consolidating this into your mortgage.
Some credit cards and unsecured loan products attract interest rates upwards of 20 per cent. Why pay these exorbitant rates when you could combine it all onto your home loan and pay just 2 per cent or even less?
Don't forget that by adding this debt to your mortgage, you are extending the time period over which you will be paying it off and dragging this out will see the interest mount up. To really make the most of this strategy, aim to make extra payments wherever you can to get the amount you have consolidated paid down ASAP. Even small contributions, like paying an extra $100 per fortnight, selling some clutter from around the house and putting the proceeds towards your mortgage or saving all your $5 notes and depositing them into your loan each month will make a big difference over the life of the loan.
Review Home, Contents and Car Insurance
If you have not reviewed your insurances in a while, it is likely you are paying too much. We have a dedicated insurance broker who has a wealth of experience in securing great value policies for our clients, with affordable premiums and excellent inclusions. They will do the hard work and research to make sure you have the coverage you need and present you with quotes that work within your budget.
With access to more than 30 fantastic car finance options, we can get you into a new vehicle with a loan that suits your budget. Whether it is downsizing the 4WD to save on petrol costs, trading up from the old bomb that is costing you more in repairs than it is worth or using your new car purchase as a tax minimisation strategy, we can help.
Analyse Business Accounts and Business Debt
Running your own business is stressful enough, without the added worry of managing all your financials and shopping around for the right bank. Let us find you the best commercial banker for your business, so you can spend time more productively serving clients, upskilling or training that new staff member.
Suss Out Your Superannuation
Australians are absolutely terrible at keeping track of their superannuation – the ATO reports that, as of June 2019, there was more than $20 billion in lost and unclaimed super languishing in forgotten accounts around the country!
Tracking down your lost super and consolidating it into a high-performing fund will help you minimise fees and maximise your retirement savings. While you are at it, be sure to check how much life, total and permanent disability and income protection insurance you have within your super. This way you can be assured to have enough cover if anything unfortunate occurs and that you are not doubling up on premiums or fees across several super accounts.
Buy that Investment Property
With the current record-low interest rates and strong competition for rental properties in our major cities, it is a great time to think about fulfilling that dream of becoming an investment property owner. It is not just an option for the rich with strong cash flow to bankroll them; the majority of Australian landlords are everyday income earners who are trying to get ahead. You may even be able to use the equity in your current home or an existing investment property to start building your portfolio today.
Make Much-needed Improvements to Your Home
If you are sick of staring at those out-of-fashion kitchen tiles or the kids are complaining about sharing a bedroom or bathroom, it could be time to renovate. Even a small extension or minor renovations could completely transform how you function in your home as a family, resulting in fewer arguments, better organisation and that zen-like calm we all crave when we escape back to our sanctuary at the end hard day at work or school.
Importantly, it could also add value to your asset, and you might not even need to save a cent to fund your project if we can help you access the equity in your home to cover the costs.
Keep Track of Your Finances using a Budget Planner
It's easy to overspend if you're not careful and mindful of where you're spending your money. Keeping a budget planner handy will help you know exactly where your money is going and how much is coming in. With every credit card company offering a "buy now, pay later" scheme, it's easy to get carried away and eventually get into so much debt. A budget planner will reveal areas where you're spending too much and where you can cut down so you can improve your financial situation by controlling your finances instead of it controlling you. ­Here's a budget planner template you can use so you can get started.
Frequently Asked Questions
Consider merging credit cards, personal loans, or car finance into your mortgage to benefit from lower interest rates.
How Do Credit Cards and Personal Loans Affect My Ability to Refinance?
Review your home, contents, and car insurance policies to ensure you're not paying more than necessary.
What Can I Do If I'm Stuck in Mortgage Prison?
With various car finance options available, now might be a suitable time to think about acquiring a new vehicle.
How Can I Negotiate with My Current Lender?
Seek out the best commercial banker to help you effectively manage your business financials.
What Other Savings Can I Ask For?
Track down any lost super and consolidate it into a high-performing fund to reduce fees and maximize your retirement savings.
Can a Mortgage Broker Help Me?
Given the current record-low interest rates and strong demand for rental properties, now might be an opportune time to consider property investment.
Getting on top of your finances is not that hard after all! After a quick conversation with one of our brokers, you will be on your way to your most prosperous year yet, so contact us today.
Louisa Sanghera is an award-winning mortgage broker and Director at Zippy Financial. Louisa founded Zippy Financial with the goal of helping clients grow their wealth through smart property and business financing. Louisa utilises her expert financial knowledge, vision for exceptional customer service and passion for property to help her clients achieve their lifestyle and financial goals. Louisa is an experienced speaker, financial commentator, mortgage broker industry representative and small business advocate.
Louisa Sanghera is a Credit Representative (437236) of Mortgage Specialists Pty Ltd (Australian Credit Licence No. 387025).
Disclaimer: This article contains information that is general in nature. It does not take into account the objectives, financial situation or needs of any particular person. You need to consider your financial situation and needs before making any decisions based on this information. This article is not to be used in place of professional advice, whether business, health or financial.