Real Estate Rebound: Listings & Prices on the Rise?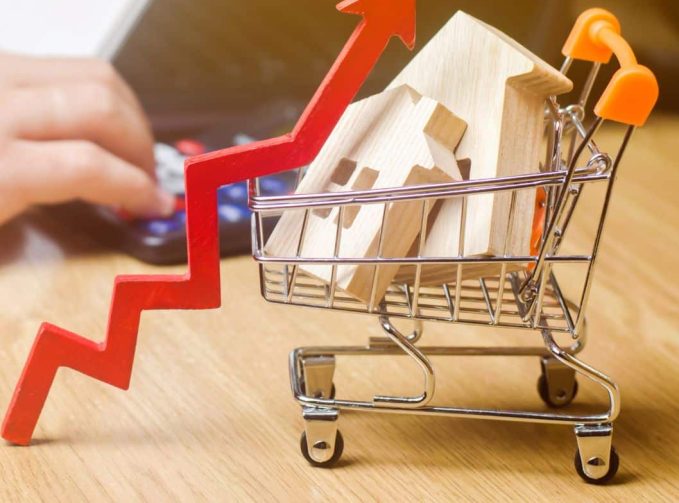 The Australian property market is experiencing a significant resurgence, marked by dynamic trends in property prices and listings. This article delves into the current state of the property market in Australia, examining the interplay of economic policies, global events, and their collective impact on real estate dynamics.
Recent data indicates a notable uptick in house prices across Australia, coupled with an increase in property listings. According to a report by news.com.au, the market is witnessing record-high house prices. This surge is attributed to a combination of factors, including historically low interest rates, attractive government incentives, and evolving buyer preferences, reshaping the property landscape.
The Impact of Economic Policies
The Reserve Bank of Australia's rate hikes and monetary policies are significantly influencing the property market. As highlighted in The Guardian, these economic measures are reshaping borrowing capacities, affecting demand and affordability in the housing sector. The ripple effects of these policies are crucial in understanding market fluctuations and future trends.
When the RBA announced its rate rise pause, many financial and property analysts, including CoreLogic, estimated the pay may give rise to increased prices due to a boost in buyer confidence. But there are other compounding factors that were influencing the pricing upswing before the rate rise pause.
Opportunities and Challenges for Buyers
In this vibrant market, buyers are presented with both opportunities and challenges. The increase in listings offers more choices, but it also brings heightened competition and potential affordability issues. Navigating these complexities requires a strategic approach to property investment and purchase.
Expert Insights and Predictions
Real estate experts provide valuable insights into the future of the property market in Australia. Predictions suggest a continued fluctuation in property prices and interest rates, influenced by economic policies and market sentiments. Understanding these predictions is vital for both buyers and sellers in making informed decisions.
Practical Advice for Buyers and Sellers
For buyers, assessing borrowing capacity and exploring diverse loan options, including asset loans, are key steps in capitalizing on current market conditions. Sellers, on the other hand, can leverage these trends to achieve optimal sale outcomes. Practical, informed strategies are essential in this ever-evolving market.
Practical Steps for Buyers
Assessing Borrowing Capacity: Begin by thoroughly assessing your borrowing capacity. Consider factors such as income, expenses, credit history, and existing debts. Utilize online calculators or consult with a mortgage broker to understand the maximum loan amount you can comfortably afford.
Diversifying Loan Options: Explore diverse loan options to find the one that best aligns with your financial goals and risk tolerance. Consider fixed-rate and variable-rate mortgages, government-backed loans, and different lenders. Each option comes with its unique benefits, and diversifying your loan portfolio can provide flexibility and potential cost savings.
Getting Pre-Approved: Obtain pre-approval for a mortgage before house hunting. A pre-approval not only streamlines the buying process but also gives you a competitive edge in negotiations. Sellers often favor buyers with pre-approved financing, as it demonstrates a serious and qualified intent to purchase.
Strategies for Sellers to Optimize Sale Outcomes
Understanding Market Trends: Stay informed about current market trends to strategically position your property. Understand factors such as demand, supply, and pricing dynamics in your local real estate market. This knowledge empowers sellers to set realistic and competitive asking prices.
Enhancing Property Appeal: Invest in enhancing the appeal of your property. Small renovations, aesthetic improvements, and well-maintained landscaping can significantly impact the perceived value of your home. A visually appealing property is likely to attract more interest and potentially lead to higher offers.
Strategic Pricing: Set a strategic and competitive pricing strategy. Avoid overpricing that may deter potential buyers, and be mindful of underpricing that could undervalue your property. Consulting with a real estate agent can provide insights into the optimal pricing strategy based on market conditions.
Shared Strategies for Buyers and Sellers
Engaging Professionals: Both buyers and sellers benefit from engaging professionals in the real estate process. Buyers should consider consulting mortgage brokers to navigate financing complexities, while sellers can seek guidance from real estate agents for effective marketing, negotiations, and transaction management.
Flexible Negotiation Approaches: Adopt flexible negotiation approaches. Buyers may explore options such as negotiating closing costs or requesting property improvements, while sellers may consider flexible closing timelines or incentives. A collaborative and adaptable negotiation process increases the likelihood of a successful transaction.
Leveraging Technology: Embrace technology for property searches, virtual tours, and digital marketing. Buyers can efficiently explore available properties online, and sellers can leverage virtual platforms to showcase their homes. Technology enhances the efficiency and reach of real estate transactions in today's digital age.
The Australian property market is in a state of flux, with significant trends shaping the real estate landscape. Staying informed and seeking professional advice is crucial in navigating this dynamic environment. Whether you are a buyer or a seller, understanding the latest trends in the property market in Australia is key to making successful real estate decisions.
Frequently Asked Questions
What is causing the recent rebound in real estate listings and prices?
The rebound is likely due to a combination of factors including low interest rates, government incentives, and a shift in buyer preferences post-pandemic.
Are all regions experiencing a rise in real estate prices?
While many areas are seeing an increase, the trend can vary significantly by region and property type. Urban and suburban areas might experience different trends.
How significant is the increase in property prices?
The increase varies, but some areas are reporting significant growth in property values due to high demand and limited supply.
What impact does the rebound have on first-time homebuyers?
The rising prices may pose challenges for first-time buyers, making affordability a key concern. However, low interest rates could offset some of these challenges.
What should potential buyers consider in this rising market?
Buyers should consider their budget, the potential for further price increases, interest rates, and long-term investment value.
What advice is there for investors in the current market?
Investors should conduct thorough market research, consider long-term trends, and be cautious of over-leveraging in a rapidly changing market.
Secure your dream home! It's the ideal time to get in touch with a reliable mortgage broker because of the increase in home prices and available listings. For outstanding financial options that are suited to your needs, get in touch with Zippy Financial today. Take advantage of this chance to move confidently through the changing market.
Louisa Sanghera is an award-winning mortgage broker and Director at Zippy Financial. Louisa founded Zippy Financial with the goal of helping clients grow their wealth through smart property and business financing. Louisa utilises her expert financial knowledge, vision for exceptional customer service and passion for property to help her clients achieve their lifestyle and financial goals. Louisa is an experienced speaker, financial commentator, mortgage broker industry representative and small business advocate.
Louisa Sanghera is a Credit Representative (437236) of Mortgage Specialists Pty Ltd (Australian Credit Licence No. 387025).
Disclaimer: This article contains information that is general in nature. It does not take into account the objectives, financial situation or needs of any particular person. You need to consider your financial situation and needs before making any decisions based on this information. This article is not to be used in place of professional advice, whether business, health or financial.