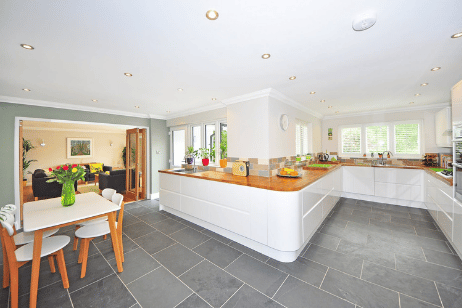 If you are finding yourself flicking through the local real estate magazines, gazing at the properties on offer with an increasing sense of longing, you might think it's time to move on from your current home and buy your dream place.
However, chances are, you haven't fully explored the possibilities that already exist around you, or fully exploited the potential your home has to offer.
There are several benefits to staying put; you won't need to spend hours wrapping your glassware in newspaper or redirect your mail, for a start! There are also some drawbacks worth considering before you commit to planning that For Sale sign in the front yard.
You will Save Thousands of Dollars on Fees, Commissions and Taxes
Whenever you buy or sell, you're hit with a whole bunch of costs and charges over and above the purchase price of the property. Stamp duty, real estate agent commissions, advertising fees – these could amount to tens of thousands of dollars, which you could have spent on renovating your home instead.
What improvements could you make to your current home with this money? It could be enough to put a pool in or build an extension so the kids no longer need to share a bedroom, while also adding value to your home.
Renovating or Extending could Add Value
On that note: updating the kitchen, adding a second storey, or even landscaping the garden and putting in a fab entertaining area could all add thousands of dollars to the value of your property, which is a win-win for you as the homeowner.
Not only does it mean you could command a higher price later if you decide to sell, it also improved your loan to value ratio (LVR), which gives you bargaining power when it comes to refinancing.
This could in turn save you a tone of interest and slash your monthly repayments, meaning you get an awesome, updated home and a cash saving!
You'll Breathe New Life into Your Beloved Home
If you're living in the property where your partner proposed or your little one took their first steps, moving on can be heart-wrenching. You don't have to say goodbye to the kid's growth chart that you've been measuring on the same door frame for years if you inject a new lease of life into the home, and bring it into line with your current needs and lifestyle.
Sometimes it's just a case of clever vision, perhaps re-jigging the floorplan or repurposing an under-utilised space. You could find you fall back in love with the property, and get to hold on to all those memories at the same time.
Finding the Ash
If you decide to redraw on your mortgage to fund your home makeover, you will see your repayments increase in the short term – but possibly not as much as you might think.
For example, a $25,000 equity draw would add around $120 per month to your home loan, while a $50,000 withdrawal would mean your repayments increase by about $235 per month.
Spent wisely on renovations that improve your quality of life and add value to the property, this could be a great investment – and as we mentioned earlier, there's the possibility of refinancing down the track and bring your repayments right down again.
Plus, you've saved yourself all those fees we mentioned at the start of this article – potentially in excess of $10,000 – $20,000.
Instead of lining someone else's pockets with this cash, you've used it to boost your home's value and make your property amazing. And most importantly, you've saved yourself a whole lot of hassle that comes with moving house – what's not to love!
This article contains information that is general in nature. It does not take into account the objectives, financial situation or needs of any particular person. You need to consider your financial situation and needs before making any decisions based on this information.