Could an Eco Renovation Boost Your Property's Value?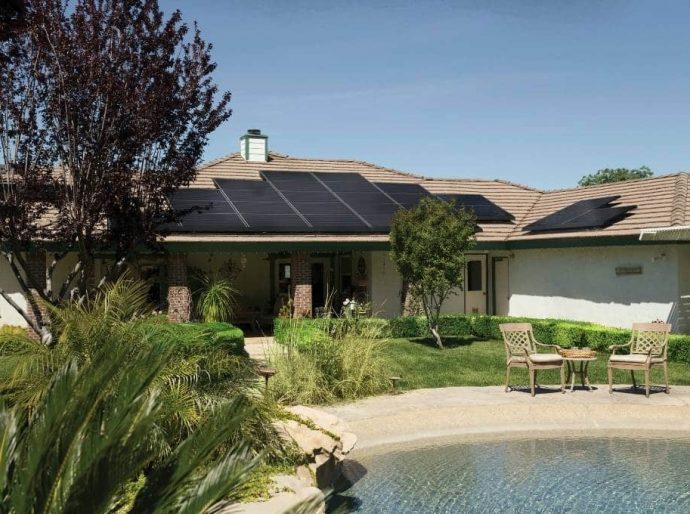 Did you know that energy-efficient homes generally attract premium prices and sell faster than non-eco listings?
The 2022 Domain Sustainability in Property Report found an energy-efficient house in the median range sells for $125,000 more (+17.1%) on average than a non-sustainable house. The results are quite good for apartments too, with energy-efficient units selling for $72,750 more (+12.7%) than a non-sustainable apartment.
Dr Nicola Powell, Domain's chief of research and economics, says more and more sellers are addressing the demand of eco-friendly homes, as online listings with popular eco features attract 8.7% more views on average. "More than half of all for sale listings in all states and territories contain energy-efficient keywords," she says.
Home Features Today's Buyers Want Most
The Top Three Eco Features Popular in House Listing Searches Right Now Are:
1. Solar power: Australia has no shortage of sunshine, and there is no shortage of demand for houses with solar panels either. A 2020 Origin Energy survey showed 77% of Australians view houses with solar panels as being more valuable. And 55% of renters said they would consider paying increased rent for solar panels.
2. Water tanks: If you have a sizable garden or lawn, a sustainable irrigation system can help keep your water bill down. Make use of the rainy season by collecting water in tanks. When the dry season hits, you will be prepared with free, nutrient dense rainwater to lavish on your gardens.
3. Insulation and glazing: Window glazing and insulation can help stop your heating and cooling efforts from leaching out. You will also reduce the summer heat and winter chill invading your home.
Financing Your Eco Renovation
Depending on your situation, many lenders now offer green loans, including those with lower interest rates, to help homeowners install environmentally sound features. These loans can be a viable option, and seeking advice on the best approach, including the potential use of a personal loan, can be beneficial.
Another option at your disposal is to unlock the equity in your home to fund your eco renovation. And it's not a bad time to consider doing so as property prices increased 23.7% in 2021.
So, how does 'unlocking equity' work? Let's say you bought an $800,000 house three years ago that, due to last year's property investment prices surge, is now worth $1 million. And let's also say you took out a $600,000 loan for the house, which you have managed to pay down to $500,000. By refinancing that $500,000 loan into a $700,000 loan (70% of your property's new market value), you can unlock $200,000 in equity to help fund a deposit for your renovations. It is also worth noting that banks will typically let you borrow up to 80% of a property's market value.
And don't forget to check out any government rebates that may be available to help with your eco renovation.
Frequently Asked Questions
What are the benefits of an eco-friendly home renovation?
Eco-friendly home renovations can significantly increase the value of your property. According to the 2022 Domain Sustainability in Property Report, an energy-efficient house sells for an average of $125,000 more than a non-sustainable house.
What are the top three eco-features that buyers are looking for?
The top three eco-features that buyers are currently interested in are solar power, water tanks, and insulation and glazing.
How can I finance my eco-renovation?
Many lenders offer green loans with lower interest rates to encourage sustainability. Alternatively, you can unlock the equity in your home to fund your eco-renovation.
What is 'unlocking equity,' and how does it work?
Unlocking equity means refinancing your existing home loan to access the increased value of your property. For example, if your home's value has increased from $800,000 to $1 million, and you've paid down your $600,000 loan to $500,000, you can refinance to a $700,000 loan and unlock $200,000 in equity for your renovations.
Are there any government rebates available for eco-renovations?
The article suggests checking for government rebates that may be available to help fund your eco-renovation, although it doesn't specify which ones.
Can I still find a better mortgage deal even if interest rates are rising?
Yes, competition among lenders remains strong, especially if you have a good amount of equity and a strong track record of meeting mortgage repayments. Refinancing options are available.
If all of this seems confusing, don't fret. We are more than happy to help you navigate loans, equity and refinancing for your eco renovation. And if you decide to proceed, the good news is that part of the process can include refinancing your home loan.
Why's that good news? Well, just because interest rates are going up, does not mean you can't scope out a better deal on your mortgage. Competition amongst lenders remains fierce, particularly if you have a decent amount of equity and a strong track record of meeting mortgage repayments. If you would like to discuss your renovation and/or refinancing options, get in touch today!
Zippy Financial is an award-winning mortgage brokerage specialising in home loans, property investment, commercial lending, and vehicle & asset finance. Whether you are looking to buy your first home, refinance or build your property investment portfolio, the team at Zippy Financial can help find and secure the right loan for you and your business.
Louisa Sanghera is an award-winning mortgage broker and Director at Zippy Financial. Louisa founded Zippy Financial with the goal of helping clients grow their wealth through smart property and business financing. Louisa utilises her expert financial knowledge, vision for exceptional customer service and passion for property to help her clients achieve their lifestyle and financial goals. Louisa is an experienced speaker, financial commentator, mortgage broker industry representative and small business advocate.
Louisa Sanghera is a Credit Representative (437236) of Mortgage Specialists Pty Ltd (Australian Credit Licence No. 387025).
Disclaimer: This article contains information that is general in nature. It does not take into account the objectives, financial situation or needs of any particular person. You need to consider your financial situation and needs before making any decisions based on this information. This article is not to be used in place of professional advice, whether business, health or financial.